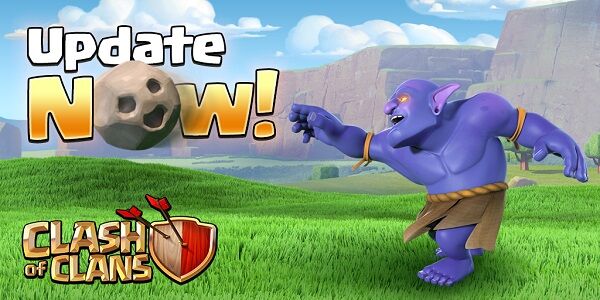 Beberapa Perubahan yang terjadi di Update Clash of Clans 8.212.3:
Town Hall 11
Jangkauan (
Range
) dari Grand Warden Life Aura dan Eternal Tome sedikit dikurangi.
Town Hall 10+
Inferno Tower Multi Mode memperoleh target baru lebih cepat dari sebelumnya.
Pemain Town Hall 10 dan 11 mempunyai kemungkinan lebih kecil untuk menemukan pemain satu sama lain.
Town Hall 9+
Darah (hitpoints) Skeleton dikurangi.
Skeleton kini tidak bisa mengaktifkan Traps.
Goblin level 6 kini bisa dibuat di Town Hall 9.
Damage dari X-Bow level 2-4 kini ditambahkan.
Town Hall 8+
Valkyrie, Damage meningkat dan Hitpoints meningkat.
Valkyrie, Serangan pertama lebih cepat dari sebelumnya.
Wizard Tower level 5-9, Hitpoints meningkat.
Pasukan akan kabur dari lingkaran Spell Poison.
Town Hall 5+
Pembuatan Dark Spells berkurang jadi 10 menit.
Pembuatan Elixir Spells berkurang jadi 20 menit.
Semua Level
Waktu Battle berkurang jadi 3 menit (dahulu 3 menit 30 detik).
Revenge Attack award Star Bonus and League Bonus rewards.
Setiap upgrade bangunan, sudah tidak bisa di batalkan.
Konten Baru
Pasukan Baru: Bowler
Upgrade level: Inferno Tower Level 4 di Town Hall 11
Upgrade level: Mortar Level 9 di Town Hall 11
Hog Rider level 6 di Town Hall 10
Valkyrie level 5 di Town Hall 10
Goblin level 7 di Town Hall 10
Clan War
War 35v35 dan 45v45 sudah dihilangkan.
Terdapat fitur 'War win streak', fitur ini memperlihatkan seberapa banyak Clan menang War secara berturut-turut.
Tombol Star button berubah jadi War Details.
Replay bisa dilihat langsung dari tabel My Team/Enemy Team.
Tampilan War Events diubah jadi lebih mudah terbaca.
Lainnya
Builder Summary
Informasi Loot Cart
Tampilan Storage lebih jelas
Replay di Defense Log dan Attack Log akan bertahan lebih lama dari sebelumnya
Battle akan selesai otomatis hanya tersisa Spell Poison dan tidak berhenti secara otomatis jika hanya tersisa Spell Earthquake